Ready to improve the looks of your property, potentially increase the value of your land, create an inviting parking space for your customers, create a durable and lasting traffic area that can withstand heavy vehicles?
O'neil's Paving, Inc., 20+ Years of Quality Service
Before picture of residential driveway.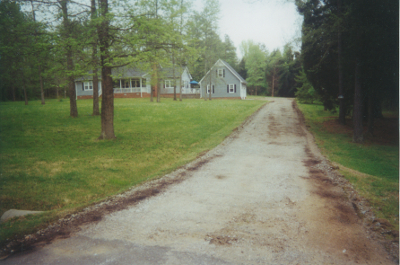 After picture of same residential driveway with asphalt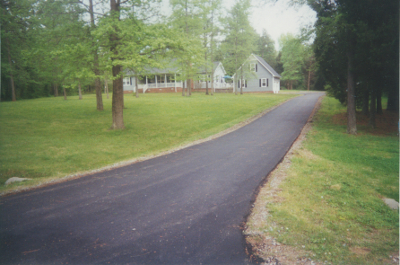 Here is a brief overview of just some aspects of paving that your project may or may not require. Each job is different and without a discussion with you and a site inspection to help determine your special needs we can only offer an idea of what the paving process may entail. Be sure to give us a call at PHONE # 803-628-0294
One of the first steps in paving an area is possible excavation. This is where we may need to remove any old road material or other obstacles such as tree stumps or large rocks.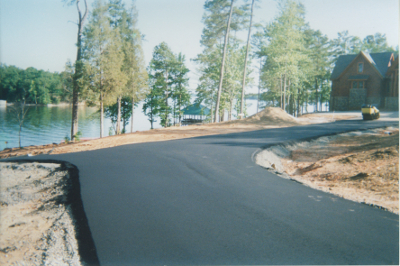 Next in the process is grading. The grading and base layer helps to ensure as smooth and firm ground as possible to help guard against weak areas in the ground, create a proper gradient base for better water drainage. The base layer material and thickness often depends on what kind of traffic and how much traffic the paved area may need to sustain.
A private residential drive typically does not require the same type of base layering and thickness that a commercial drive or parking lot may require.
The final step in paving is laying the asphalt. Once everything has been properly prepared, hot pavement mix is layered to meet your road or parking lot requirements followed by compacting machinery to finalize the process.
And should you need it we also offer asphalt seal coating and line striping services.
Our years of knowledgeable service along with our quality equipment allows us to minimize the amount of time required to complete all these steps. You get to use your newly paved area as quickly as possible while keeping your costs to a minimum.
But the only way we can meet your needs exactly is by talking to you.
Please give us a call –